Kids are out of school and home for summer vacation. If a big family vacation is out of your budget, don't worry. Instead, you can plan some mini summer getaways and still take advantage of your well-deserved time off. Taking a day trip, a weekend getaway or just staying in a nearby location for a short time is often doable, even on a tight budget.
In fact, the inexpensive nature of mini-vacations often allows people to enjoy two or three events over the course of the summer. Since the psychological "buzz" of vacation usually fades after a few weeks, these quick and affordable trips can help you stay relaxed, happy and motivated throughout the summer.
If you're ready to make the most of the warm weather, here are some frugal ideas for a summer vacation the whole family is sure to enjoy.
Go to the beach (public)
If a week at an oceanfront vacation spot isn't affordable, don't worry, there are plenty of alternatives. If you live near the coast, you're likely to find yourself within driving range of a public beach.
In many cases, you can get in and enjoy a day by the water for a few dollars at most. In fact, many public beaches charge no admission fee at all. And if you bring a picnic basket, you won't have to buy expensive restaurant food.
In addition to swimming and sunbathing, you can also access activities such as kayaking or fishing from a public dock. If you don't live near the ocean, consider looking for nearby bodies of water.
Do a quick search and you're almost certain to find a lake, pond or river with easy public access to enjoy for little or no cost. Then, pack up the car, remember the sunscreen and head to a nearby public beach for some fun in the sun.
Start day of travel
No matter where you live, there are likely to be great things to do within a few hours' drive. Find museums that are close enough to travel early in the morning, enjoy the day and be home in time for dinner.
Also, start checking the calendar for local and regional festivals. There may be music, art and other great festivals or carnivals in your area, so you won't even have to drive far. Your family can attend these affordable venues together, as there is usually something for everyone to enjoy.
Head outdoors
Another way to plan a memorable but affordable mini-vacation this summer is to venture into the great outdoors. There are thousands of places across the country to camp, and most of them are very affordable. In some cases, you may even be able to find a campsite where you can camp for free.
There are also hundreds of public trails throughout the country where you can hike for a few days, camp and rest along the way while taking in the beautiful scenery. All you need is some food, water, basic camping gear and a sense of adventure to turn two or three days into a short adventure.
Playing a game
If you have a few days off, you can turn them into a challenging but fun game for the whole family. For example, you could engage in upgeocaching, a hobby in which you work in a virtual community to search for cached items, document your discovery, and post caches for other community members.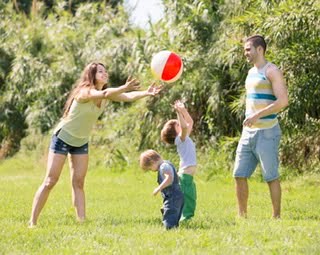 Alternatively, you can plan some kind of exciting adventure-type competition that takes all day for your family to complete, such as a sporting event or a scavenger hunt. The winning team wins a homemade trophy and family bragging rights.
Whatever you do, a one-day event can be a memorable but inexpensive little vacation for everyone.
Start planning your mini-vacation now
Mini-vacations are a great way to have fun in the sun when you have a budget tight. If you want to make the most of the warm summer days before the kids go back to school, you should start planning as early as possible.
Do some research to find local events you'd like to attend and check the calendar for nearby family activities. You may also want to explore a beach or camping area to spend quality family time outdoors.
A little planning and preparation can help you make the most of your hard-earned money while creating lifelong memories with your loved ones. By taking advantage of your children's time off during the attractive summer months, everyone can recharge their batteries before September rolls around again.